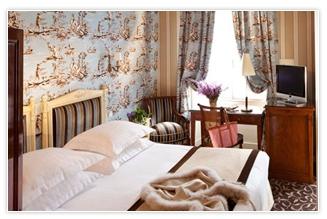 Dauphine St. Germain Hotel Paris
Are you seeking charm and comfort in one of the most charming and historic districts of Paris? Are you in town for business, pleasure or your honeymoon?

Hôtel Dauphine Saint Germain is the perfect hotel for you with the right atmosphere.

Come discover the wonder of a 17th century historic building: a boutique hotel with all possible services for a comfortable stay, with all you could need. And beyond its doors you will discover the wonder of the Latin Quarter, the lively historic cafes which are the charm of the city, bookstores, shops, fine dining.


Boulevard Saint Germain, Boulevard Saint Michel, Notre Dame and the beautiful church of Saint Germain-des-Prés, the historic cafés such as Les Deux Magots or Café de Flore.

The hotel offers babysitting service for a fee, press, internet, umbrellas, dry cleaning (for a fee), parking, bar, concierge. Dogs are permitted (for a fee). The hotel welcomes with particular pleasure young couples on their honeymoon, offering them special treatment.

Art galleries, cinemas, theatres, the life of a rich neighbourhood where fun is the watchword at a friendly hotel of great charm and designed and furnished with care, a skilled staff attentive to your needs, all this to offer you a truly unique and special in the most memorable city in the world.